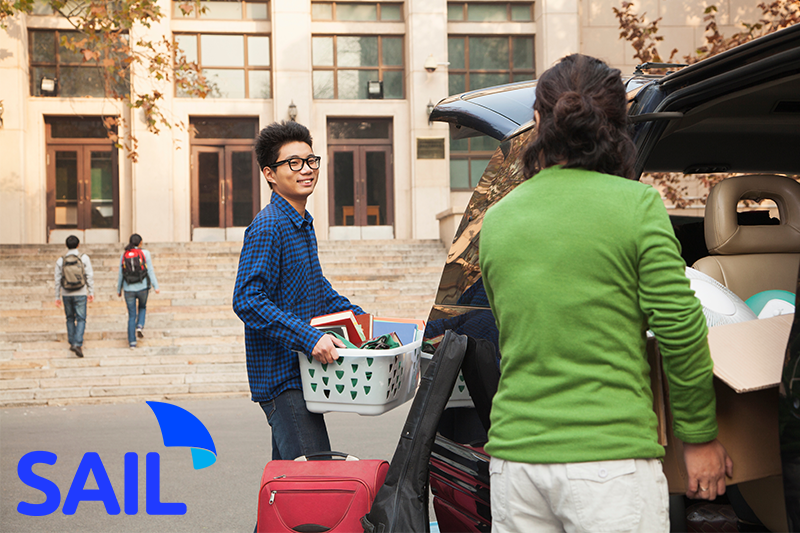 What Moving Into Your Dorm Looks Like for a First-Year Student in College
"Apply Now"
"SAIL Loans"
"Save Money"
---
Moving out of your comfortable childhood home and into a tiny dorm can feel disappointing at first, and they are often empty, lack decor, and are small spaces that lack functionality. But the good news is that you can quickly transform your dorm into an oasis that brings you happiness with just a few tricks and additions.
By playing around with the layout of your dorm room and adding a few items from Bed Bath & Beyond's dorm collection, you'll feel at home in no time.
Invest in cozy bedding
It's crucial to get a restful sleep each night when it comes to your productivity inside and outside of class. Purchasing new sheets and a soft comforter can improve your sleeping environment. To simplify this, Bed Bath & Beyond offers the
Bed In A Bag
option, including pillowcases, a comforter, and sheets.
Add a mirror
Adding a mirror to your dorm room or any type of room makes it appear larger. This is incredibly important for small spaces as you don't want to ever feel claustrophobic when spending all day or night studying in your dorm room. A
large mirror
can be leaned against the wall, or you can purchase a few
peel-and-stick mirrors
that can be applied to your wall.
Find a funky area rug
If your college dorm has laminate or cement flooring, adding a
soft area rug
is an easy way to ensure that your feet aren't always cold. Getting out of bed for class every morning will be much more pleasant if you're stepping onto a plush rug instead of chilly flooring. Before ordering an area rug online, be sure to measure your dorm room.
Add personality to your dorm room with throw pillows
Since most college dorm rooms appear slightly dull, purchasing a few fun and colorful throw pillows is an effortless way to spruce up the space.
Incorporate lights
Whether you buy a bright lamp for your bedside table or twinkle lights that can be strung above your bed, adding lights will make your dorm a more pleasant space to be in. Lamps with different settings that can be easily adjusted depending on the time of day are always a great idea. Fairy or twinkle lights can create a relaxing, warm, and magical ambiance in your dorm room that your college friends will surely admire.
Applying for an installment loan online will allow you to create a comfortable college dorm room where you can study
and
hang out. SAIL Loans is a financial lender that borrowers can trust when seeking a quick and easy installment loan. To apply,
click here
.