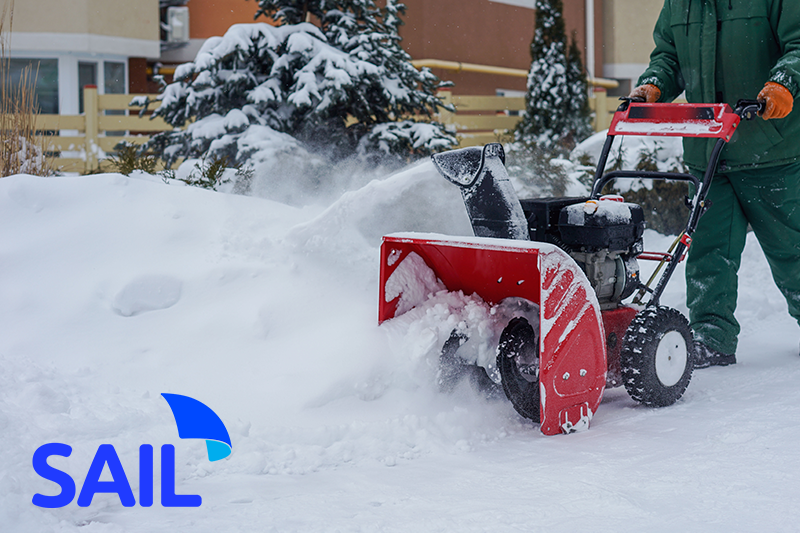 It's Not Too Late for That Snowblower
"Apply Now"
Illinois
"SAIL Loans"
Community
Educational
Lifestyle
---
Can you feel it? It is almost that time of the year again, and it is closer than you think. Winter is almost here technically, and with winter comes cold, thick jackets, more heaters, and of course, snow. Now, snow is nice, but do you know the hard part? Trying to break through thick, heavy, wet snow with a shovel to create walking paths with a standard shovel. Fortunately, a snowblower can help prevent making the hard part necessary.
Snowblowers make winter seasons fun. All you need to do is power the blower and start walking with it, and it magically clears an acceptable path for you.
Choosing a Suitable Snowblower
Depending on your location, a snowblower can be an absolute necessity or a piece of luxury equipment to own. Snow blowers differ in features, sizes, and prices.
There are three main categories of snowblowers;
Single-stage
Two-stage
Three-stage

Single-Stage Snowblowers
These blowers are best used in short walkways of less than 6 inches and are also suitable for decks and short, level driveways. They do well with smooth cemented surfaces and are the most basic type of snowblowers. Small engines drive their rubber paddles and are light and easy to maneuver.

Two-Stage Snowblowers
These are bigger-sized machines with more significant engines. The engine propels snow away by spinning an auger and a centrifugal wheel. They are more suitable for paths that are made of gravel. Because their paddles do not make direct contact with the ground like the single-stage snowblowers, they leave a thin layer of snow behind. Two-stage snowblowers are typically self-propelled.

Three-Stage Snowblowers
These blowers have the most efficient clearing power of all snowblowers and are the most suitable machine for heavy, wet snowfall and long driveways. They contain two heavy-duty steel augers and can launch snow up to 50 feet away.
In preparation for the winter season, what better time to buy a Snowblower than now? Looking for extra cash to cover this expense? We got you! At SAIL, we offer a quick and easy solution for installment loans of up to $4000. Our online application for savings and installment Loans will take just a few minutes.
Why stress over finance when you can easily access our loan plans? You could even get a portion of the loan in your bank account just a few hours after completing our application on our website before 11:30 AM CST. We could also help you build your savings and offer referral bonuses.
Ready to get that Snowblower? Visit our
website
now to apply for the loan, and start building a healthy financial life.