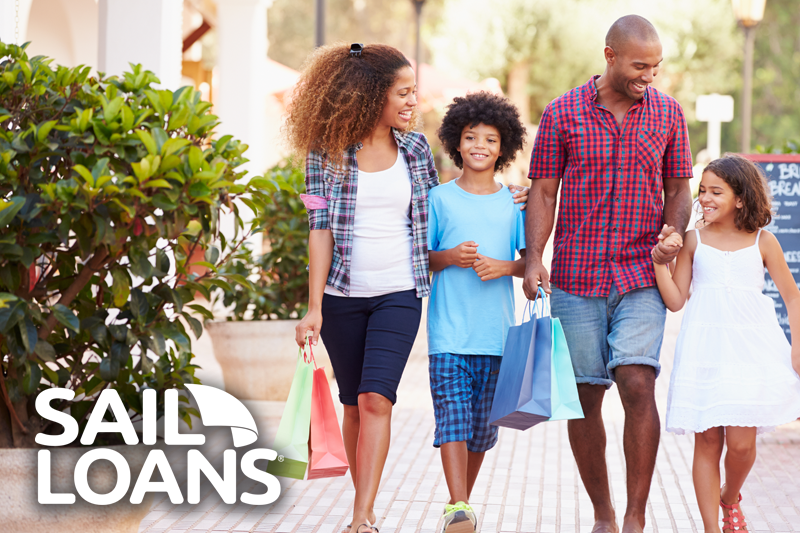 Helping Illinois Families Afford Back-to-School Essentials
"Apply Now"
Illinois
"Installment Loans"
"SAIL Loans"
"Tips and Tricks"
---
Helping Illinois Families
Afford Back-to-School Essentials
The long days of summer are growing shorter, which means many families are preparing for the annual ritual that heralds the turning of the seasons: the back-to-school shopping trip.
SAIL Loans Senior District Manager Kevin Donahue
"I remember how important it was when I was a child to make sure we didn't miss a single item on our back-to-school shopping list," recalls Kevin Donahue, senior district manager for lender SAIL Loans.
"At SAIL Loans," he continues, "we want to help families afford the school supplies, electronics and clothes their kids need so they can start the school year with the best chance for success."
Cash for today, savings for tomorrow
With the innovative savings and installment loan from SAIL Loans, Illinois customers get the money they need for their back-to-school shopping.
"But in addition to addressing our customers' short-term needs," says Kevin, "our savings and installment loan also helps them set sail to a better financial situation.
"Here's how it works," he explains. "A portion of the loan amount is placed into a secure savings account. As a customer makes regular installment payments on their loan, this savings account accrues interest and grows. When the loan is paid off in full, the customer gets full access to the funds in the savings account.◆
"Once the loan is paid off," Kevin continues, "customers have a financial cushion that provides greater financial stability. Now they're better prepared for unexpected expenses, and they can continue their journey toward increased savings and a more and more stable financial state."
A long list of customer-friendly advantages
Illinois customers can get funded for a savings and installment loan up to $4,000* with an array of benefits, including:
a quick and easy application process
same-day funding
responsive, courteous customer service
the choice of a 12-month, 15-month or 24-month installment plan (which offers lower installment payment amounts)
the chance for customers to build their credit history as they pay off their loans

"SAIL Loans reports payments to one of three major credit bureaus once a month on our customers' behalf," says Kevin. "As customers make timely payments on their loans, they can build a positive credit history, which can be very valuable to them when they apply for a job, rent an apartment, or buy a home or car."
Lots of easy ways to get started
Illinois consumers can apply for the SAIL Loans savings and installment loan by visiting the SAIL Loans website, via the downloadable app, at one of the 18 convenient Illinois locations or by contacting a customer service representative at 833-700-7245.
"We want to make it easy for folks to get the money they need," says Kevin. "And if our savings and installment loan can take the stress out of affording essential back-to-school items, then parents win and kids win."
About SAIL Loans
SAIL Loans, headquartered in suburban Chicago, gives Illinois consumers a simple, easy way to build savings and get funded for an installment loan of up to $4,000*, online, via the downloadable app and at 18 convenient locations across the state.
______________________________
*Loan amounts and requirements subject to change. Based on eligibility; restrictions apply. By submitting a short application, you agree to receive email, phone, and text correspondence.

Max APR is 35.99%. Loan terms range from 12 – 24 months with loan amounts from $100 – $4,000. Representative example of the total cost of the loan: Loan amount of $1,000.00 with loan term of 12 months; APR of 35.99%. Your bi-weekly repayment will be $46.06. The total of payments will be $1,197.55 and your cost will be $197.55.

◆ Most customers will receive their secure savings within 10 business days of final payment.